Play
Creating a Globally Competitive Smart Mobility Workforce in Ontario
Over the last year, Invest Ottawa, in partnership with Ontario's #AVIN and industry leaders, developed and piloted a new skills development program that aims to help create a globally competitive, future-ready workforce in Ontario.
Focused on smart mobility and Connected and Autonomous Vehicles (CAVs), the CAV Talent Catalyst Pilot Program offered participants a hands-on, interactive learning experience with industry leaders that are developing and employing cutting-edge technologies.
These include 5G, #AI, machine learning, computer vision, LiDAR, BlackBerry Jarvis, cybersecurity, and more.
Project Overview
These industry-led workshops harnessed the power of collaboration, and some of the greatest strengths Ottawa has to offer Ontario and the world. They delivered actionable insight, evidence-based outcomes and an impactful approach that can be adapted and employed to help the smart mobility and automotive industry and related tech sectors gain a competitive talent edge.
For example, our CAV Talent Catalyst Team created an intentional diversity methodology for workshop participant selection to help fuel the development of a more diverse and inclusive talent pipeline
This improved diversity levels in attendees from an average of 59% to 84% diversity.
70% of participants were from priority equity groups.
We are excited to share all key outcomes and learnings with our community, and employ them in future programs.
Together, we will maximize our collective impact; drive new opportunities for tech talent and companies; and create an even stronger, more globally competitive smart mobility workforce in Ontario.
Special thanks to the Ontario Government, our CAV Talent, Area X.O, Invest Ottawa team, all industry and post-secondary partners, participants, Ontario Centre of Innovation and #AVIN collaborators for your support of our smart mobility innovators, firms and community.
Created in collaboration with and delivered by leading industry organizations, the CAV Talent Catalyst program will explore the foundations of CAVs, highlight up-to-date sensor technology and provide an overview of cybersecurity protocols; the program also provides the opportunity to connect with industry professionals.
Program delivery partners include Accenture, Hexagon (AutonomouStuff), Sensor Cortek, Tempo Analytics & VIVA Lab (UOttawa), Aurrigo, EasyMile, BlackBerry QNX, Nokia, CS Canada, ADGA and AWS.
Play
What is Area X.O
Area X.O is the futureplex of innovation and collaboration.
Located in Ottawa, Canada's Capital, Area X.O enables and accelerates breakthrough innovation in next generation technologies.
Our state-of-the-art facility offers a safe and secure environment to create, test and demonstrate future mobility, autonomy and connected technologies. Any innovation. Any application. Any sector… from transportation and telecom to smart agriculture, defence, aerospace, public safety, and smart cities.
What is AVIN
The Autonomous Vehicle Innovation Network (AVIN) is the Government of Ontario's flagship initiative on the future of the automotive and mobility industry. Through AVIN, Ontario is at the forefront of the sector's transformation, capitalizing on the economic potential of automotive technologies and smart mobility solutions such as connected and autonomous vehicles (C/AVs), and enabling the province's transportation and infrastructure networks to plan for and adapt to this evolution.
AVIN is undertaking work on skills and talent, which focuses on ensuring the sector's workforce is prepared to meet the needs of the future and maintain its global competitiveness.
Through this work, AVIN aims to support the futureproofing of the automotive and mobility sector's workforce, drive collaboration between industry, educational and post-secondary institutions and government, and support an approach to strengthening and diversifying the next generation talent pipeline and building capacity within all regions of Ontario.
To learn more visit the AVIN Hub.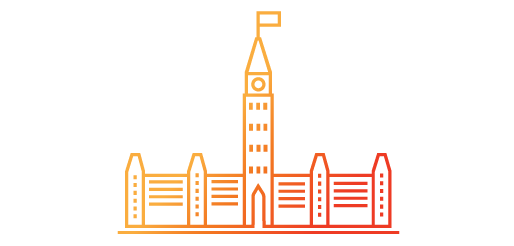 Work in Ottawa
Canada's Capital is one of North America's hottest, most diverse global tech hubs.
Anchored by top tech firms, expertise, and competitive advantages: we can help you achieve your career goals.
Learn more