Invest Ottawa, Bayview Yards and Area X.O Closed to the Public Until Further Notice
Play
Be the First
Area X.O is the futureplex of innovation and collaboration.
Located in Ottawa, Canada's Capital, Area X.O enables and accelerates breakthrough innovation in next generation technologies.
Our state-of-the-art facility offers a safe and secure environment to create, test and demonstrate future mobility, autonomy and connected technologies. Any innovation. Any application. Any sector… from transportation and telecom to smart agriculture, defence, aerospace, public safety, and smart cities.
Learn More
Subscribe
Accelerate your innovation: Discover how we can help you achieve your breakthrough. Subscribe to stay apprised of all developments, news and events at Area X.O
What We Offer
Area X.O offers:
One of the most advanced, integrated communications test infrastructures in the world with numerous GPS systems, 4G/LTE, WiFi, LoRa, TV White Spaces and authentic pre-commercial 5G (including mmWave) from Nokia and Ericsson and satellite communication systems

V2X (vehicle-to-everything) testing, validation and demonstration in a four-season climate with temperatures from -39 to +39 degrees Celsius (-38  to +102 degrees Fahrenheit)

Cybersecurity solutions, and industry-leading data gathering, analysis and cloud capabilities

Unrivalled proximity to policymakers and regulators; 65 federal research labs; 130 embassies, government departments; 1,750 innovative tech companies and five post-secondary institutions 

Access to investors looking to invest in new high-tech products and services



Translate your vision into reality at Area X.O
Learn more
Explore Sponsorship
Top tech developers, entrepreneurs, multinationals, investors and their partners are putting the capabilities of Area X.O to work to achieve their innovation, R&D and business objectives. Read more
Make a lasting contribution to our innovation community and achieve key goals.Become a sponsor and explore opportunities to:
Contribute to the development of our global innovation playground and the innovators we serve

Achieve high profile onsite presence and recognition 

Gain ready access to thought leaders, entrepreneurs, R&D and technology leaders, local and global companies 

Acquire advanced visibility of innovations and emerging technologies and the high-potential companies that are bringing them to market

Scout top talent in tech-driven sectors

Seize rare networking, R&D and business development opportunities with prospective clients, investors and collaborators 

Host, contribute to or participate in webinars, training sessions and events

and this is just the beginning!
To explore customized Area X.O sponsorship opportunities that directly address your goals, please contact Kara Eusebio, Senior Manager of Strategic Partnerships, at keusebio@investottawa.ca
Contact Us
"Area X.O is a significant development that recognizes the potential of autonomous systems to impact both on-road and off-road applications, providing engineers a test bed to develop autonomy that improves safety for motorists and makes a variety of industries more efficient and sustainable."
John Buszek, Hexagon | AutonomouStuff Vice President of Products and Services
"Area X.O has provided Nokia with an unparalleled opportunity to do joint research and development with our industry and government partners. We have used it to test our private LTE and 5G networks with leading companies working on connected and autonomous vehicles, and we have tested our own drones and integrated operations center technology in first responder scenarios such as search and rescue. The facility enables us to put our technology, as well as that of our partners, through the kind of extreme real-world conditions that Canada is famous for. If our Smart City solutions can operate here, they can be adapted to anywhere in the world."  
Calin Miculescu, Director, Sales, Nokia Canada 
"The Ottawa smart testing site is a unique range of capabilities that significantly increases the quality of autonomous vehicle integration and test. Since coming onto to the site FourD Robotics™ has established new business collaborations and new opportunities that previously would have been unlikely. FourD Robotics™ has been engaged with Invest Ottawa for several years and actively have resided on the test site for only a few months. Building autonomous vehicles is a complex task requiring a range of capabilities ranging from a garage where we can drive a test vehicle directly onto a realistic test track and connect to advanced precision navigation services and leading edge wireless broad band communications."
Jeremy James, President & CTO, FourD Robotics™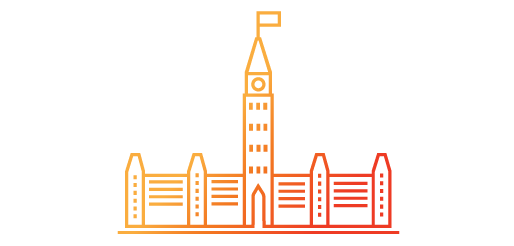 Why Ottawa?
Canada's Capital is one of North America's hottest, most diverse global tech hubs.
Anchored by top tech firms, expertise, and competitive advantages: we can help you achieve your innovation goals.
Learn more
Technology Partners
Aurrigo
Canal Geomatics | Terris GPS
CENGN
Cohda Wireless
ENCQOR 5G
Farmers Edge
Hexagon | AutonomouStuff
InDro Robotics
Kongsberg
MH Corbin
Pessl
Telesat
Trimble
Swift
Ecosystem Partners
CAVCOE
Kanata North Business Association